To ensure that you have a reliable roofer, you can turn to NewBrook Home Improvement. Our roofing Waldorf MD services are highly regarded in Waldorf, both for residential and commercial properties. Our commitment to excellent customer service, efficiency, and top-notch workmanship has earned us a solid reputation. Whether you require a small roof repair following a storm or a complete roof replacement for your building, we are the team to call.
Our track record as a top-performing roofing company in Waldorf is a point of pride for us. We have been a member of the Better Business Bureau for a long time and strive to maintain our A+ rating.
Free Waldorf MD Roofing Estimate: Contact us today at 410-421-7484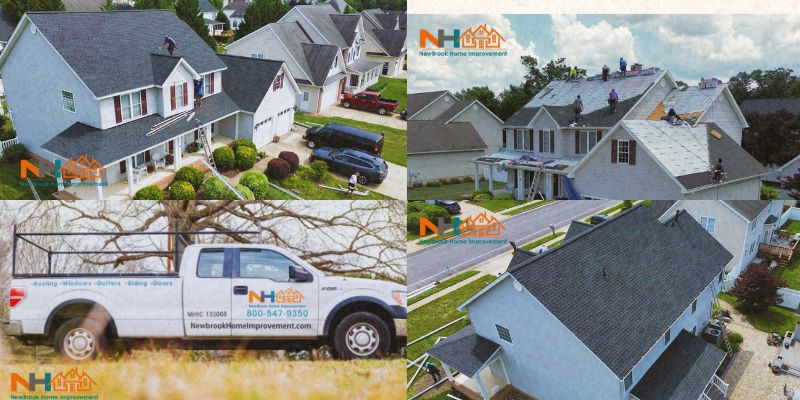 Best Roofing Services in Waldorf MD – For A Roof That's Built To Last
Maryland's climate can be unforgiving, particularly when it comes to residential weatherization. The harsh weather conditions can cause significant damage to homes, making it crucial to have a quality roof installed by experienced professionals. Your home's first line of defense against the destructive forces of nature is a sturdy and reliable roof. It can protect your property from the rain, wind, snow, and other elements that Maryland's weather can throw at it.
As a leader in roofing Waldorf MD services, NewBrook Home Improvement understands the importance of a quality roof for Maryland homeowners. We offer a range of roofing solutions to meet your specific needs and desires. Our skilled employees can tackle even the most difficult roofing projects, and we are committed to meeting the strictest requirements with our customer-centric approach. Our team stands out as the leading roofing contractor in Waldorf MD due to our unwavering dedication to delivering the best roof replacement available. At NewBrook Home Improvement, we take pride in providing our clients with the peace of mind that comes with a reliable and durable roof.
Call The Local Experts For Roof Repair in Waldorf MD!
If your roof experiences significant damage due to weather-related events or a minor roof leak, it's not advisable to attempt fixing it on your own. This can lead to more severe problems and even personal injury, which is not worth the risk in the long run. Instead, it's best to leave the roof repair needs in Waldorf to the skilled specialists at NewBrook Home Improvement.
In case of storm damage, our expert crews can quickly secure vulnerable areas to prevent further harm and then plan for a lasting roof repair solution that will safeguard your family and property. We can also document the damage and help you file a homeowner's insurance claim, making the process easier and smoother for you. Trust NewBrook Home Improvement for all your roof repair in Waldorf MD, and experience peace of mind knowing your home is in capable hands.
We're NewBrook Home Improvement, Your Contractor For Commercial Roofing in Waldorf MD
Commercial roofing Waldorf MD projects can vary greatly, and it's essential to find a reliable roofing contractor with experience in a variety of roofing Waldorf MD types to ensure successful installation and maintenance. At NewBrook Home Improvement, we understand the importance of finding a trusted contractor for your commercial roofing Waldorf MD needs.
We take pride in the recognition we've received over the years in the roofing Waldorf MD industry, including maintaining an A+ rating with the Better Business Bureau. We believe that confidence and comfort in the commercial roofing contractor you choose are crucial for long-term customer satisfaction. That's why we ensure that our team is properly trained, highly skilled, and experts in their field. You can trust us to provide the right product installed by the right team every time, ensuring that your commercial roofing Waldorf MD needs are met with excellence and professionalism.
Residential Roofing Waldorf MD Services You Can Trust
At NewBrook Home Improvement, we provide reliable residential roofing installation and repair services. Your home's roof is essential to maintaining its structural integrity, safety, and insulation.
No matter if you have a cost-effective shingle roof or metal roof or any kind of roof type it will require repair or replacement at some point. We understand that this can be a daunting task, and surprises are the last thing you need. Our contractors discuss all the details beforehand to ensure that you can make informed decisions and receive the best service possible.
NewBrook Home Improvement for Unmatched Customer Service and Professional Roof Replacement in Waldorf MD
Professional roof replacement in Waldorf MD is essential to protect your home and maintain its structural integrity. With the use of high-quality materials and proper installation, a roof can remain beautiful and last for 30 to 50 years. For all your reroofing needs, trust NewBrook.
We offer a comprehensive, no-cost roof inspection and estimate to ensure that you receive the best service possible. Our team of highly qualified roofing contractors is dedicated to providing top-notch service to meet your roofing Waldorf MD needs. We also offer available roofing maintenance packages to keep your roof in excellent condition over time.
At NewBrook Home Improvement, we pride ourselves on providing unparalleled customer service to ensure your complete satisfaction. Trust us for all your roofing Waldorf MD needs and experience the NewBrook difference.
Free Waldorf MD Roofing Estimate: Contact us today at 410-421-7484
Reputation is Everything – Trust Our Roofing Contractor in Waldorf MD
Since 2016, our business has been proudly owned and operated locally. NewBrook Home Improvement stands out as a top performer in the home improvement and roof replacement industry. Our primary objective is to offer our customers exceptional service while advocating for their interests as homeowners. The high quality of our work is evidenced by the satisfaction of over 1,000 customers to date. We are a rapidly expanding roofing company, widely recognized as the foremost residential and commercial roofer in the United States.
We hold ourselves to the highest standards when it comes to delivering on our mission of customer satisfaction. Our team strives to exceed expectations in every interaction with our valued clients, and we are passionate about ensuring that their needs are met with professionalism and expertise. With a track record of successful projects and a reputation for excellence, NewBrook Home Improvement has become one of the fastest-growing roofing companies in the nation.
Affordable Rates, Speedy Service & Honest Roofing Company in Waldorf MD
NewBrook Home Improvement's extensive experience in roof repair is one of the most compelling reasons to trust us with your roofing Waldorf MD needs. Our roof repair technicians undergo rigorous training to ensure that they possess the necessary skills to tackle any kind of roofing issue.
It is crucial to be mindful of the roofing Waldorf MD materials used by contractors when hiring them, as the quality of materials used can have a significant impact on the longevity of the roof. With NewBrook Home Improvement, you can be confident that only high-quality materials will be used to repair your roof. We are committed to providing our customers with the best possible service, and this includes using only the most reliable and durable materials.
With our extensive experience and commitment to using only top-quality roofing materials, NewBrook Home Improvement is the ideal choice for all your roofing Waldorf MD needs. Our skilled technicians will provide you with excellent service and a long-lasting roof repair solution!