In the realm of roofing Deale MD, NewBrook Home Improvement has been the trusted choice for top-quality roof installation and roof repair for over seven years. As a locally owned and operated business, we are fully licensed, bonded, and insured. Our skilled roof technicians are certified by manufacturers and insured for your peace of mind. We offer a range of roofing services in Deale MD, from complete roof replacement to repair, and can handle all types of roofing Deale MD, including those damaged by hail and storms.
Free Roofing Deale MD Estimate: Contact us today at 410-421-7484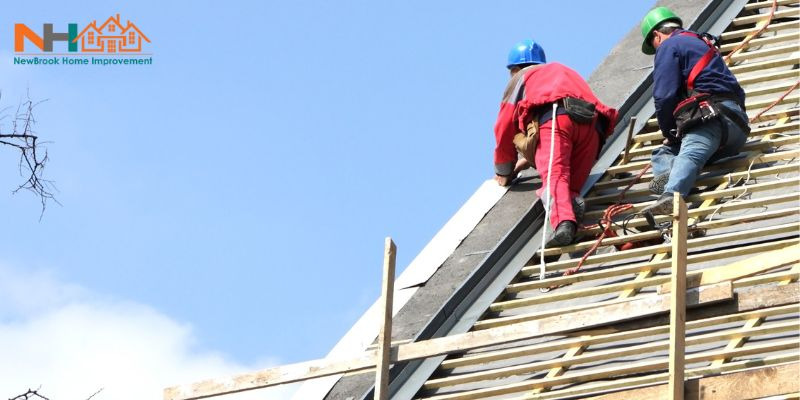 Experience The Best Roofing Services in Deale MD
Our top priority at NewBrook Home Improvement is to ensure your home is safe, comfortable, and efficient for generations to come. You're not just a customer, you're part of our family.
We understand that the roof replacement process can be overwhelming. Our experts conduct a thorough inspection and provide a detailed report on your roof's condition. We'll work with you to determine if a replacement is necessary or if repairs can extend its lifespan. Our knowledgeable staff is here to help you select the right products that align with your needs and vision.
Signs You Need Roof Repair in Deale MD: How to Spot Them Early
As a homeowner, one of the most important parts of your house to keep in good condition is your roof. After all, it's the first line of defense against the elements, and it's what keeps you and your loved ones safe and dry. However, it can be challenging to know when your roof needs repairs, especially if you're not familiar with the signs. Here are some of the most common indicators that your roof needs attention:
Damaged Shingles: A Warning Sign
One of the easiest ways to spot a problem with your roof is to look for damaged or missing shingles. Over time, shingles can become cracked, curled, or even completely detached from your roof. This is often due to weather damage or age, and it can lead to leaks and other issues.
Leaks: An Obvious Red Flag
If you notice water stains on your ceiling or walls, it's a clear sign that you have a leak somewhere in your roof. Leaks can be caused by a variety of issues, including damaged shingles, improper installation, or even clogged gutters. Whatever the cause, it's essential to have a roofing leak repaired as soon as possible to prevent further damage to your home.
Improper Roof Ventilation: A Hidden Culprit
Another often-overlooked issue that can cause problems with your roof is improper ventilation. Without proper airflow, your roof can become too hot or too cold, which can lead to issues like ice dams or mold growth. If you notice that your attic is too hot or humid, it may be time to look into improving your roof ventilation.
Rotted Wood: A Serious Concern
If you have an older roof, there's a chance that the wood underneath your shingles may have begun to rot. This is often due to moisture damage or insect infestations, and it can weaken your roof's structure, making it more vulnerable to collapse. If you notice any signs of rotting wood, it's crucial to address the issue right away.
Sagging Roof: A Sure Sign of Trouble
If you notice that your roof is starting to sag or dip in certain areas, it's a clear sign that there's a problem. This is often due to structural issues with your roof, such as damaged or weakened support beams. If left untreated, a sagging roof can lead to serious damage and even collapse.
Rising Energy Bills: An Unexpected Clue
Believe it or not, your roof can have an impact on your energy bills. If you notice that your bills are higher than usual, it could be a sign that your roof is not properly insulating your home. This can be due to issues like damaged shingles or inadequate insulation. By addressing these problems, you can not only save money on your energy bills but also extend the lifespan of your roof.
If you notice any of these signs or suspect that your roof may need repairs, don't hesitate to reach out to the experts. At NewBrook Home Improvement, we specialize in quick and cost-effective roof repairs, using only the highest quality materials to ensure long-lasting results. Whether you're dealing with damaged shingles, leaks, or other issues, we have the skills and expertise to get your roof back in top condition.
Free Deale MD Roofing Estimate: Contact us today at 410-421-7484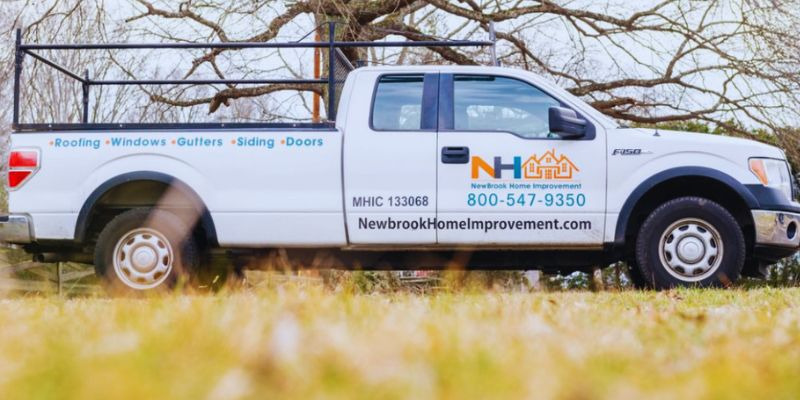 Expert Commercial Roofing Deale MD – NewBrooke Home Improvement
If you're a commercial property owner or manager in the Deale area, you know how important it is to have a reliable roofing Deale MD system. After all, your roof is what protects your valuable assets from the elements and ensures the safety of your employees, customers, or tenants. That's why it's essential to choose a commercial roofing contractor with the expertise and experience to get the job done right the first time.
At NewBrook Home Improvement, we've been serving commercial clients in the area with professional roofing Deale MD services since 2016. We understand that every commercial property has unique needs, which is why we offer a wide range of roofing services in Deale MD to meet those needs.
From Design to Repair to Installation
Our experienced commercial roofing team is equipped to handle everything from design and repair to installation of all major roofing Deale MD systems. Whether it's an apartment complex, office building, church, warehouse, or shopping center, we have the expertise to get the job done right.
We use only high-quality materials and the latest technology to ensure that your commercial roof is durable, energy-efficient, and built to last. Our team is also well-versed in all types of roofing Deale MD systems, including asphalt shingles, metal roofing, TPO, EPDM, and more.
On-Time and On-Budget
We understand the time is money in the commercial world. That's why we work quickly and efficiently to complete your commercial roofing Deale MD project on time and on budget. We'll also keep you updated every step of the way, so you know exactly what's going on with your roof.
If you're in need of roofing Deale MD services, look no further than NewBrook Home Improvement. With our experienced team and commitment to quality, we'll ensure that your commercial roof is in top condition for years to come.
Make Roof Replacement in Deale MD Easy with NewBrook Home Improvement
Replacing a roof can be a daunting task for many homeowners, especially when dealing with an old, damaged or unusable roof. On top of that, finding a reliable and affordable contractor can add to the challenge. Fortunately, NewBrook Home Improvement has an experienced team that can help make the process easier. We provide fast, friendly, and free estimates for all home improvement projects, including roofing Deale MD.
Our qualified roofing contractors, not salesmen, will diagnose the roofing Deale MD issue and offer solutions. With over 10 years of experience in Deale and the surrounding areas, our team has earned a strong reputation as one of the most trusted roof replacement contractors in Deale MD. You can trust us to handle your roof replacement or repair with professionalism and expertise.
Reliable & Dependable Roofing Contractor in Deale MD
With a focus on attention to detail and an "A+" rating from the Better Business Bureau, our team at NewBrook Home Improvement is committed to providing top-quality home improvement services. We take pride in our well-trained, expert staff who are led by owner Dermot McDermott, and we use only the best equipment and tools to ensure the highest quality workmanship.
We understand the importance of protecting your landscaping and your neighbors' throughout the entire process, and we take special care during cleanup. If you require references, we are more than happy to provide them upon request. Choose us for all your home improvement needs and experience the difference of working with a team dedicated to excellence.
Professional Roofing Company in Deale MD
At NewBrook Home Improvement, we take pride in our commitment to communication, professionalism, timeliness, innovation, and craftsmanship. We understand the importance of proper planning and staging for all projects, and we work closely with you to ensure that your project is planned from start to finish. Our dedication to integrity, trust, and personal touch is essential to your satisfaction, and we prioritize protecting your home, business, and family with superior service and quality workmanship.
Our professional estimating, project managing, and production experience guarantees that your project will be completed on time with uncompromising quality. We use only quality materials from the industry's top manufacturers and employ cutting-edge installation techniques and patented roofing Deale MD workmanship. Our team consists of skilled artisans who are at the top of their trades, and we take pride in adding beautiful, well-built updates to homes and businesses throughout Wisconsin. Choose NewBrook Home Improvement for professional, high-quality work that you can rely on.