We are pleased to offer our customers the SMI 1.5″ Snaplock Standing Seam Metal Roofing System. The panels and accessories are fabricated on site ensuring a truly custom made metal roof for each individual home.
Using a 22 – 24 gauge metal panel with a kynar paint finish your new metal roof will hold it's shape and color for many years to come. With over 35 colors and finishes available we are sure to satisfy every customer's taste.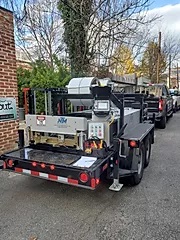 GET MORE INFORMATION FROM OUR TEAM IN SOUTHERN, MD
Does your home need a new roof? Are you remodeling your local business? NewBrook Home Improvement offers metal roofing services in Dunkirk, Maryland and surrounding areas. Metal roofs are durable, low-maintenance and long-lasting, perfect for no-nonsense property owners.
Ready to get started? Schedule your service today by calling 800-547-9350.
3 BENEFITS OF METAL ROOFING
Metal roofs are a great option for nearly any home or business. As a fully licensed contractor, NewBrook Home Improvement can take care of metal roofing installations, repairs and replacements. We offer free estimates on all our services to ensure you get the best price in the area.
We often recommend metal roofing because:
It can add value to your home.
It's weather-resistant.
It's long-lasting with minimal maintenance.
Choose a trusted, reliable contractor for your metal roofing installation. Call us today to learn more about our metal roofs.